The Juice
Cocktail Recipe
The Juice Cocktail Recipe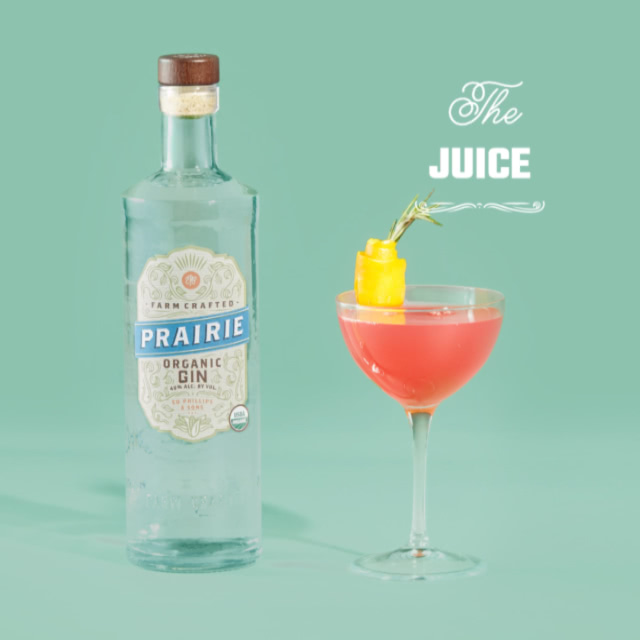 Difficulty
Mixologist
Ingredients
2.5 oz Prairie Organic Gin
1.25 oz Cranberry Sauce Shrub
0.25 tsp local Medium Amaro
Organic rosemary sprig, for garnish
Orange twist, for garnish
Directions
Combine all ingredients in stirring glass with ice and stir. Strain into coupe glass. Garnish with fresh rosemary sprig and orange twist. Enjoy!
Cranberry Sauce Shrub
Ingredients
1.5 cups cranberry sauce (leftover sauce from a meal works great!)
1 cup organic red wine vinegar
7 sprigs fresh organic rosemary
1 cup water
Directions
For every 1.5 cups of leftover cranberry sauce, add 1 cup red wine vinegar and 30 inches of fresh rosemary. Combine in a pan over medium heat. Simmer for 10 minutes, watching carefully so as not to boil. Strain and cool.
Cranberry Sauce
Ingredients
12 oz organic cranberries
1 cup organic sugar
Juice from 4 organic oranges
Directions
Combine cranberries, sugar and orange juice in a pot. Save the orange rinds for garnish. Cook over medium heat until the cranberries start to pop open, about 10 minutes. Remove from heat and cool.
Back to Recipes
Products in this Recipe
More Recipe Inspiration